Cold Skin (2017) does a really good job in the beginning to get your attention. The voice-over narrations in between scenes add to the feeling of isolation and loneliness. It surely did not disappoint like some movies that have a decent trailer only to be subjected to some humdrum opening sequence. The trailer captures just enough of what makes this movie nice, meanwhile not really giving out what it's really about
Too early to start with the good stuff? Not really an issue.
Cold Skin does rush quite a bit into the second act leaving you wondering if there's a lot of a story left to last more than an hour. This risks some parts of the movie to be repetitive fillers, but honestly, it didn't really bother me that much for it to be an issue. The nightly battles between the human duo vs the marauding sea mermen felt more symbolic than anything. Ray Stevenson is perfect as Gruner by the way, there's just something about him that meshes perfectly with a jaded and isolated misanthrope.
In this remote part of the world I feel a sense of irreparable loss

                                                                          - Friend
All in all, this movie is perfect for those downtimes where you just want to sink into a simple movie that's shot in a breathtakingly-isolated location. It becomes more about sadness and the frailties of being human instead of a mere "Lovecraftian "creature feature" flick wannabe. Throw in some gratuitous battles night in and night out then you got yourself a nice little movie you can actually tell your friends to watch.
A great movie for those Sunday mornings
It's a small movie that's imbued with some poetic undertones, something that enjoyably opens it up for some interpretation.
We give this a 
6.3/10
, but
please
do leave your own rating for this
film
below by clicking the star ratings and give your thoughts on the movie in the comments section. Add and Follow our
Facebook
and
Twitter
pages to get site updates.[kkstarratings]
Summary
Cold Skin (2017)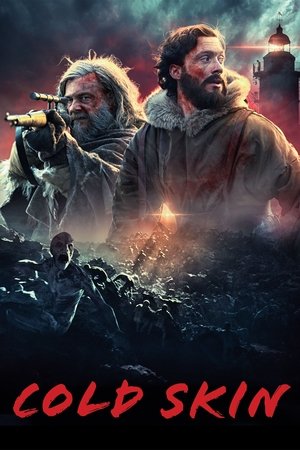 A young man who arrives at a remote island finds himself trapped in a battle for his life.
Ray Stevenson
Role: Gruner
Aura Garrido
Role: Aneris
Winslow Iwaki
Role: Senegalese
John Benfield
Role: Captain Axel
Ben Temple
Role: Naval Officer
Iván González
Role: New Weather Official
Alejandro Rod
Role: Portuguese
Julien Blaschke
Role: Burley Russian
Damián Montesdeoca
Role: Scotsman
Israel Bodero
Role: Ship Crew Member #1
Roberto Rincón
Role: Ship Crew Member #2
Albert Sánchez Piñol
Book

Daniel Aranyó
Director of Photography
Jeremy Zimmermann
Casting
Gil Parrondo
Production Design
Óscar Sempere
Art Direction
Mani Martínez
Set Decoration
Tatiana Hernández
Costume Design
Arturo Balseiro
Creature Design
Carmen Veinat
Key Hair Stylist
Miguel Sesé Guillot
Makeup Designer
Héctor Gil
Property Master
David Domínguez
Camera Operator
Lionel Garrote
Camera Operator
Luis del Prado
Electrician
Sergio Mantecón
Electrician
Álvaro García
First Assistant Camera
Guillem Huertas
First Assistant Camera
Joaquín 'Kino' Sánchez
Gaffer
Pablo Rubio
Lighting Technician
Arturo Paiva Mediavilla
Animation
Ainara Castro
Visual Effects Producer
Carolina Pinillos Visscher
Visual Effects Producer
Félix Bergés
Visual Effects Supervisor
David Ramos
Visual Effects Supervisor
Laura Pedro
Visual Effects Supervisor
Pau Costa
Special Effects Supervisor
Jaime Fernández-Cid Buscató
Boom Operator
Iñaki Sánchez-Elvira
Dialogue Editor
Ricardo Viñas
Dolby Consultant
Oscar Victoria
Sound Designer
Mayte Cabrera
Sound Effects Editor
Alfredo Díaz
Sound Effects Editor
Gabriel Gutiérrez
Sound Re-Recording Mixer
Gabriel Gutiérrez
Supervising Sound Editor
Eugenia Fernández-Pello
Casting Assistant
Irene Ilias
Casting Associate
Mónica G. Lancha
Assistant Costume Designer
Queralt González
Assistant Editor
Pau Itarte
First Assistant Editor
Félix Rosell
Location Manager
Samantha Timmerman
Continuity
Irene Manrique Matin
Publicist