We Need To Talk About Kevin (2011)
We need to talk about Kevin (2011)  is a dark, mystery-thriller by one of the best writers in the genre, Lynne Ramsay. She's been known for her great books which some have been adapted into feature films.
The story starts off at different parts of  Eva's life (played by Tilda Swinton), this might put off some viewers who want some structure in their movies. But it is done well as expected of Ramsay but I must say you have to be patient here. A lot of thinking and establishing which timeline a certain scene is a part of. Movie critics like that sort of thing, but for a lazy viewer, I'm not so sure.
I want you to tell me..why?

                                          - Eva
There are times where scenes will confuse you if you're not paying attention because it keeps going back and forth to different timelines. Thing is, just like with The Lovely Bones, the movie is based on something that's already transpired. You are then left to view the whole experience from Eva's perspective, you also end up asking the same big question: "WHY?".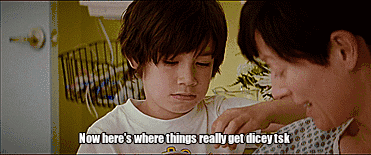 The cast is stellar and the acting is great, with Swinton alongside John Reilly and Ezra Miller being the key characters. Afaik this was one of Ezra Miller's breakthrough performances where he really starts to shine. This movie is great, but don't expect clear-cut endings or resolutions. If you're into a movie with the usual structures this probably isn't for you. But if you want a quality movie with subtle nuances, great acting and a different type of thriller then this might be in your wheelhouse.
Summary
We Need to Talk About Kevin (2011)
After her son Kevin commits a horrific act, troubled mother Eva reflects on her complicated relationship with her disturbed son as he grew from a toddler into a teenager.
Cast
We Need to Talk About Kevin
Tilda Swinton
Role: Eva Khatchadourian
John C. Reilly
Role: Franklin Khatchadourian
Ezra Miller
Role: Kevin Khatchadourian, Teenager

Jasper Newell
Role: Kevin Khatchadourian, 6-8 Years

Rock Duer
Role: Kevin Khatchadourian, Toddler
Ashley Gerasimovich
Role: Celia Khatchadourian
Siobhan Fallon Hogan
Role: Wanda

Kenneth Franklin
Role: Soweto
Leslie Lyles
Role: Smash Lady
Paul Diomede
Role: Corrections Officer, Al
Michael Campbell
Role: Corrections Officer

J. Mallory McCree
Role: Prison Boy
Mark Elliot Wilson
Role: Eva's Lawyer
James Chen
Role: Dr. Foulkes
Lauren Fox
Role: Dr. Goldblatt

Blake DeLong
Role: Young Suited Man #1
Andy Gershenzon
Role: Young Suited Man #2
Kelly Wade
Role: Mother of Little Girl
Ursula Parker
Role: Little Girl
Jason Shelton
Role: Delivery Guy
Erin Darke
Role: Young Assistant, Rose
Annie O'Sullivan
Role: Waitress

Georgia X. Lifsher
Role: Checkout Girl
Aaron Blakely
Role: Concerned Man
Polly Adams
Role: Mary Woolford

Suzette Gunn
Role: Young Crying Mother
Joseph Melendez
Role: Waiter
Rebecca Dealy
Role: Student #1

Louie Rinaldi
Role: Student #2
Johnson Chong
Role: Student #3
Kimberley Drummond
Role: Student #4

Leland Alexander Wheeler
Role: Student #5
Daniel Farcher
Role: Student #6
Jennifer Kim
Role: Student #7

Caitlin Kinnunen
Role: Student #8
Maryann Urbano
Role: School Mother / Teacher
Jose Joaquin Perez
Role: Mexican Janitor

Tah von Allmen
Role: Woman with Birthmark
Joseph Basile
Role: Mover (uncredited)
Paul Marra
Role: High School Bully (uncredited)

Jeffrey Mowery
Role: Visitor (uncredited)

Francesca Murdoch
Role: Ballet Student (uncredited)

Susan-Kate Heaney
Role: Nanny (uncredited)
Crew
We Need to Talk About Kevin
Rory Stewart Kinnear
Screenplay
Catherine George
Costume Design
Heather Loeffler
Set Decoration
Judy Becker
Production Design
Charles Kulsziski
Art Direction

Seamus McGarvey
Director of Photography

Jonny Greenwood
Original Music Composer
Tilda Swinton
Executive Producer
Lynne Ramsay
Executive Producer
Lisa Lambert
Executive Producer
Paula Jalfon
Executive Producer

Christopher Figg
Executive Producer
Andrew Orr
Executive Producer

Steven Soderbergh
Executive Producer
Norman Merry
Executive Producer

Christine Langan
Executive Producer
Michael Robinson
Executive Producer
Anthony Gudas
Co-Executive Producer
Robert Whitehouse
Executive Producer
Simon Greenall
Co-Executive Producer
Suzanne Baron
Co-Executive Producer
Michael Corso
Co-Executive Producer
Leslie Thomas
Co-Executive Producer
Eva Z. Cabrera
Script Supervisor
Kimberly Asa
Art Department Coordinator
Nicole Rivelli
Still Photographer
Alec Jarnagin
Steadicam Operator
Ken Ishii
Production Sound Mixer
Simon Changer
Music Editor