Ghost Stories (2018) is kind of an anthology movie in a way, as it tells of three supernatural occurrences which Philip Goodman has to debunk. This starts when his childhood hero of debunkers (who's gone missing for a couple of years) reaches out to him to do this favor. The movie stars off showing Philip as a renowned supernatural debunker, which gets a message from his long-time hero, Charles Cameron. He is given a proposition to look into three cases of supernatural events that Charles was never able to explain.
Philip then sets out to do his bidding, as he also looks forward to meeting the mysterious personality he used to look up to. The story then turns into a narrative for each event that'has transpired, then it is revealed how everything is connected to himself.
The movie has a lot of subtle hints about where it's headed, although less intense viewers might not catch it. Honestly, I was clueless until the end, and it was a great twist. The movie lends itself to those 80' style horrors that rely less on jump scares and more on sheer creepiness. It felt very refreshing, what with all the popular movies nowadays that seem to overly reach for the low-hanging fruit of horror filmmaking.
Things are not always as they seem - Charles Cameron
Martin Freeman is in the movie which is great, an actor who doesn't really need to play anyone but himself. It's not a knock on the guy because as a movie star, he's really likable onscreen. Just like how Gene Hackman was before and other actors before them. It's probably an amateurish comparison, but as a prolific movie viewer, that's just how I feel.
As I've mentioned earlier, the movie is more an anthology with a twist. Without giving much away, you view the story from Andy's perspective as a skeptic debunker of myths. Likewise, you start feeling really uneasy as each time he interviews one of the people who's experienced the supernatural. As you start believing that the supernatural phenomena are authentic, you start to deviate from Andy's perspective, back to that of being the spectator again. It becomes increasingly terrifying as he goes deeper and deeper, and you lay witness to it.
Overall the movie is great, lots of old-fashioned scares and unpredictability. It's one of those movies that you need to rewatch to get a better appreciation of it. The subtlety and nuances in horror movies are delightful to dig up when one is no longer fearful of the uncertainty.
We give this a  6
.5/10
, but please do leave your own rating for this
film below
by clicking the star ratings and give your thoughts on the movie in the comments section. Like and Follow our
Facebook
and
Twitter
pages to get site updates.[kkstarratings]
Summary
Ghost Stories (2018)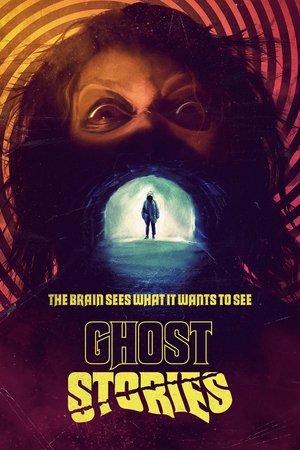 Professor Phillip Goodman devotes his life to exposing phony psychics and fraudulent supernatural shenanigans. His skepticism soon gets put to the test when he receives news of three chilling and inexplicable cases -- disturbing visions in an abandoned asylum, a car accident deep in the woods and the spirit of an unborn child. Even scarier -- each of the macabre stories seems to have a sinister connection to the professor's own life.
Andy Nyman
Role: Professor Goodman
Martin Freeman
Role: Mike Priddle
Alex Lawther
Role: Simon Rifkind
Paul Whitehouse
Role: Tony Matthews
Nicholas Burns
Role: Mark van Rhys
Kobna Holdbrook-Smith
Role: Father Emery
Daniel Hill
Role: Mr. Goodman
Deborah Wastell
Role: Mrs. Goodman
Amy Doyle
Role: Esther Goodman

Maggie McCarthy
Role: Jean Hooper
Christine Dalby
Role: Beth Hooper

Jill Halfpenny
Role: Peggy Van Rhys
Ramzan Miah
Role: Esters's Boyfriend
Joe Osborne
Role: Mr. Rifkind
Maria Major
Role: Mrs. Rifkind
Emily Carding
Role: Maria Priddle
Benji Ming
Role: Headmaster
Leonard Byrne
Role: Charles Cameron

Samuel Bottomley
Role: Young Goodman

Jake Davies
Role: Desi Callahan / Kojak
Oliver Woollford
Role: Nico Freer
Callum Goulden
Role: Marcus Perry
Anthony Davis
Role: Radio DJ
Mike Aarons
Role: Mike from Barnett
Elaine Dyson
Role: Mrs. Rifkind
Billy Sneddon
Role: National Breakdown Assistant Caller

Lesley Harcourt
Role: BBC Local Newsreader
Ole Bratt Birkeland
Director of Photography
Grant Montgomery
Production Design
Haim Frank Ilfman
Original Music Composer
Matthew Price
Costume Design
Dan Jackson
Set Decoration
Mason White
Set Decoration
Bella Cruickshank
Hair Designer
Jemma Harwood
Hair Designer
Jemma Harwood
Makeup Designer
Michael Byrne
Prosthetic Makeup Artist
Satinder Chumber
Prosthetic Makeup Artist
Katie Bleakley
Production Manager
Terry Bamber
First Assistant Director
Kian McClure
Boom Operator
Martin Cantwell
Sound Effects Editor
Simon Hill
Sound Re-Recording Mixer
Martin Cantwell
Supervising Sound Editor
Luca Zappala
CG Supervisor
Edd Gamlin
Visual Effects Editor
Grahame Andrew
Visual Effects Producer
Tim Caplan
Visual Effects Producer
Noga Alon Stein
Visual Effects Producer
Adam Gascoyne
Visual Effects Supervisor
Ian Rowley
Special Effects Supervisor
Rob Rowley
Special Effects Coordinator
Paul Edwards
Steadicam Operator
Alf Tramontin
Steadicam Operator
Julius Ogden
First Assistant Camera
Parisa Taghizadeh
Still Photographer
Jonny Boutwood
Casting Assistant
Layla Merrick-Wolf
Casting Assistant
Mimi Milburn-Foster
Costume Supervisor
Marie Valentino
Digital Intermediate
Michael Rolt
Assistant Editor
Chris Piccaro
Music Supervisor
Anita Christy
Script Supervisor