I Dont Feel At Home In This World Anymore (2017)
This is the running theme all throughout  I Don't Feel At Home In This World Anymore. Melanie Lynskey who plays Ruth is all too relatable and Elijah Wood who plays Tony is fantastic in the movie. The movie will make you laugh and smile at how these characters seem all too real.
Everyone is an Asshole

                     - Ruth Kimke
Like with a lot of dramedies, what makes this thing enjoyable, is the story's simplicity. We recommend you watch this one on a quiet, easy-viewing night or the usual Sunday morning movie. It's something truly fun to watch alone or with friends.
We give this a  7.5/10, but please do leave your own rating for this film below by clicking the star ratings and give your thoughts on the movie in the comments section. Add and Follow our Facebook and Twitter pages to get site updates. [kkstarratings]
Summary
I Don't Feel at Home in This World Anymore (2017)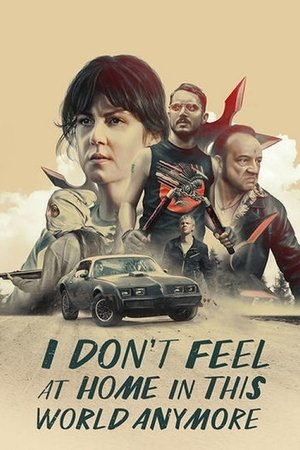 When a depressed woman is burglarized, she finds a new sense of purpose by tracking down the thieves alongside her obnoxious neighbor. But they soon find themselves dangerously out of their depth against a pack of degenerate criminals.
Cast
I Don't Feel at Home in This World Anymore
Melanie Lynskey
Role: Ruth Kimke


Devon Graye
Role: Christian
Christine Woods
Role: Meredith
Robert Longstreet
Role: Chris Rumack
Gary Anthony Williams
Role: Det. William Bendix
Jason Manuel Olazabal
Role: Cesar
Jana Lee Hamblin
Role: Trixie

Macon Blair
Role: Bar Dude
Ray Mist
Role: Sunglasses At Night
Jeb Berrier
Role: Gearhead
Robin Blair
Role: Grandma Sally
Maryanne Cummings
Role: Churchgoer
Myron Natwick
Role: Killer Sills

Michelle Moreno
Role: Jana
Crew
I Don't Feel at Home in This World Anymore


Larkin Seiple
Director of Photography
Julie Carnahan
Costume Design
Tyler B. Robinson
Production Design

Mette-Marie Kongsved
Producer
Yona Prost
Script Supervisor
Brooke Blair
Original Music Composer
Will Blair
Original Music Composer
Lauren Mikus
Music Supervisor

WARNING: SPOILERS BELOW
Ruth lives alone and works as a nurse assistant. She's having an existential crisis with how her own life turned out and starts to emotionally fall apart. One day she arrives home and sees that it's been robbed. Realizing that her prized heirloom silverware and laptop had been stolen, she suddenly latches on to anger.
Whatever worries and concerns she'd previously been mulling has now been replaced with a crusade - finding the culprits. As she starts with her newfound crusade, she runs into Tony - a highly-paranoid, introverted fellow who seems to be in need of a friend.  After being disappointed with the detective in charge, who seems to be in a crisis of his own, they take it upon themselves to seek out the perpetrators.
A couple of run-ins and hilarious discoveries later, they were able to track down one of the thieves responsible and find his home address. Apparently, their suspect is some rich, problem teenager hanging out with the wrong people he's met in jail. They pretend to be cops and talk to his mom, which turns out to be a lonely, raving alcoholic desperate for attention. His dad, along with his overtly-paranoid bodyguard arrives and talks them down as they were, to him, clearly no police officers.
All this time both Ruth And Tony are unaware that it was a crew composed of three people responsible: Marshall, Dez, and Christian - the latter being their only suspect. The crew mistakenly believe that Ruth is some kind of badass who is hot on their heels. They send out Christian to go after her but accidentally gets run over by a car and dies.
Without Christian, they figure that they need a third wheel to rob his parents, so they abduct Ruth, who they've seen visit Christian's house. Ruth enters and points a gun and handily disarms the bodyguard, Marshall and Dez follow inside. A big confrontation occurs when they realize Christian had miscalculated his Dad's money stash in the vault.
The weirdest, most random gun battle transpires. Tony appears out of nowhere and joins in by throwing a shuriken while everyone is pointing a gun at someone. Nonstop shots go firing off which mortally wounds Tony and Marshall, but kills the Dad, the Bodyguard, and Dez. The Mom hysterically runs out of the house, while Ruth and Tony go into the woods and Marshall goes after them. Ruth runs into a venomous snake but is unharmed while Marshall gets bit in the face and dies an agonizing death.
Tony is dying and Ruth realizes what a great and loyal person he is, dispelling everything she believed about "people being assholes".  Cut to the final scene where Ruth appears to be very happy and the camera pans to a smiling Tony who survived.